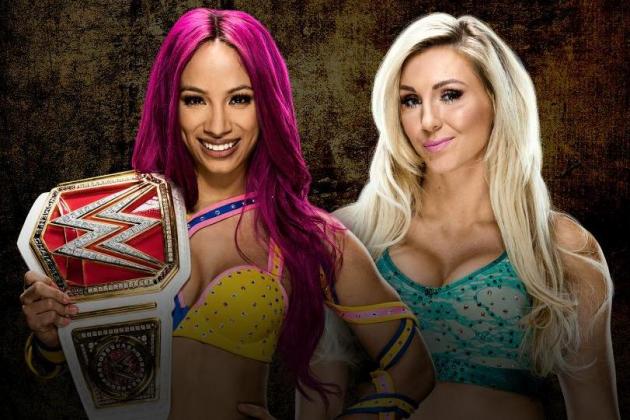 Charlotte Flair defeated Sasha Banks in the first women's Iron Man match on the WWE main roster Sunday at Roadblock: End of the Line to win the Raw Women's Championship for the fourth time.
The two wrestlers were tied at the end of the 30 minutes. Charlotte gained a fall after getting Sasha to submit in the Figure Eight Leglock shortly before time expired. 
Charlotte targeted Sasha's leg toward the end of regulation and into overtime as well, and the strategy paid off. She locked in the Figure Eight Leglock again, and after failing to reach the ropes, Sasha eventually tapped out.
WWE shared a photo of Sasha giving up:
FIGURE EIGHT!! @SashaBanksWWE TAPS OUT!! @MsCharlotteWWE is a FOUR TIME Women's Champion!!#WWERoadblock #IronmanMatch pic.twitter.com/4q6o1dxl66

— WWE (@WWE) December 19, 2016
Bleacher Report's Kevin Berge liked the match as a whole but was disappointed to see the women's title changing hands once again:
That match was just about perfect, except WWE had to shift the title AGAIN. #WWERoadblock

— Kevin Berge (@TheBerge_) December 19, 2016
WWE personality Renee Young saluted both stars:
That was INSANE!!!! Congrats to @MsCharlotteWWE and @SashaBanksWWE unbelievable #IronMan #wweroadblock 🙀👏🏻👏🏻👏🏻

— Renee Young (@ReneeYoungWWE) December 19, 2016
Sasha and Charlotte have taken to breaking down barriers during their time in WWE, and Sunday's bout was the latest example.
After competing in the first women's Hell in a Cell match at Hell in a Cell and becoming the first women to main-event a main roster pay-per-view, it seemed nearly impossible for them to up the ante even more.
Banks won the title back from Charlotte on Raw, however, in a hard-hitting Falls Count Anywhere match, which set the stage for another pay-per-view showdown between them.
Following The Queen's loss to The Boss, she posted the following tweet regarding her rivalry with Sasha:
You need a good opponent to see how far your limits go…to test yourself.
Iron sharpens iron. I'm coming back for my crown. #Raw

— Charlotte Flair (@MsCharlotteWWE) November 29, 2016
Charlotte knew she was due an automatic rematch for the women's championship, but it was Banks who laid out the parameters.
Perhaps inspired in some way by her rival's tweet, Sasha challenged Charlotte to a 30-minute Iron Man match, as seen in this video courtesy of WWE:
#Raw Women's Champion @SashaBanksWWE CHALLENGES @MsCharlotteWWE to an #IronMan Match at #WWERoadblock. pic.twitter.com/zYehAFPZim

— WWE (@WWE) December 6, 2016
The suggested stipulation was a meaningful one coming from Banks since she and Bayley had previously competed in the first women's Iron Man match in NXT.
Sasha came up just short in that bout, but it didn't stop her from asking Charlotte to face her in the ultimate test of endurance and will.
Charlotte accepted later in the night and added an interesting wrinkle by feigning an apology to her father, Ric Flair, before slapping him, via WWE:
A hug for Dad? NO!!
"You SON OF A B**CH!" – @MsCharlotteWWE to @RicFlairNatrBoy pic.twitter.com/zREVs8bL1Y

— WWE (@WWE) December 6, 2016
While Charlotte had disowned the Nature Boy months earlier, he returned to WWE following Sasha's title win in the Falls Count Anywhere match on Raw to congratulate her.
Banks ran to Flair's aid after Charlotte slapped him, but she was on the receiving end of a beatdown by The Queen in her own right.
That turned up the heat even more in a feud that has carried on for much of 2016, with the women's championship hanging in the balance and changing hands on multiple occasions.
Charlotte entered Roadblock: End of the Line with an undefeated record in pay-per-view title matches, which seemingly gave her an upper hand.
That proved to work in her favor, and it resulted in yet another title change during what has been a back-and-forth battle between Charlotte and Sasha.
Since the former champ is almost always granted a rematch after dropping the title, every indication is that Sasha will get another shot and that her feud with Flair will continue.
Although that may bother part of the viewing audience since the two Superstars have been at odds for so long, they consistently put on remarkable matches and have a chance to keep going with a storyline that may be talked about for years to come.
Listen to Ring Rust Radio for all of the hot wrestling topics. Catch the latest episode in the player below (warning: some language NSFW).
Follow @MikeChiari on Twitter.